Speakers
All the Speakers
Current designs and builds are posted as they are created and can be found posted as Speaker Building projects.
10″ High Performance Subwoofer
A compact sub designed for automotive use but equally well suited in a larger room.  This box was built solid and utilizes a slot port wrapped around the internal cabinet to create the length required for the very low tuned frequency.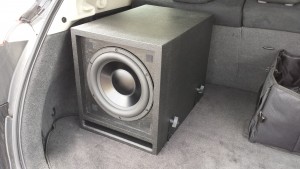 Specifications
Frequency Response: 30Hz – over 300Hz at -3dB in room, 20Hz capable in car interior
Sensitivity: 85dB at 1 watt
Load Configuration: Single 4 Ohm load
Power Handling: 350W RMS
Bass Guitar Bi-amplification system
A slender but tall set of cabinets designed for extremely wide bandwidth and accurate reproduction for the bass guitar.  The sub cabinet utilizes a single high power 15″ driver in a vented enclosure designed to reproduce the 41Hz low E fundamental of a bass guitar without losing output efficiency.  The high frequency cabinet utilizes a set of 4 aluminum cone 6 1/2″ speakers arrayed around a high efficiency bullet tweeter.  The high range is designed for fast attack and extended upper frequency sensitivity allowing faithful reproductions of transients and overtones of the bass guitar.  Cabinets are finished in a durable black fabric with stackable corners and steel protective grilles over the drivers.
The primary design goal was to hear the bass, not the speakers.
Recommended crossover point of 200Hz.
Specifications (High):
Frequency Response: 50Hz to 20kHz
Crossover point: 18dB / Octave High pass at 5kHz for tweeter
Sensitivity: 95dB per watt at 1 meter
Load configuration: single 8 ohm load
Power Handling: 300WRMS
Cabinet Dimensions: 21″W X 21″D X 15.5″T
Specifications (Sub):
Frequency Response: 40Hz to over 200Hz at -3dB points
Sensitivity: 99dB per watt at 1 meter
Load configuration: Single 8 ohm load
Power Handling: 600WRMS
Cabinet Dimensions: 21″W X 21″D X 31″T without casters, 33″T with steel casters
210 Compact Sub
A compact passive sub capable of clean useable output to below 30Hz while only utilizing 1 cubic foot of internal volume.  Has multiple impedance configurations to accommodate any drive amplifier.  The design uses two 10 inch woofers in a vented, fourth order push pull isobaric configuration to reduce equivalent volume and allow low frequency extension in a small enclosure.  The cabinet is well suited to either home or mobile use.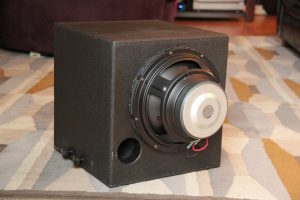 Specifications:
Frequency Response: 34Hz to over 100Hz at -3dB points
Sensitivity: approximately 85dB at 1 meter per watt with all voice coils driven
Load configuration: Dual 4 Ohm connections
Power Handling: 240W RMS total, 120 per connection
Cabinet Dimensions: 13″W X 13″D X 14″T with a protruding speaker basket on one side to accommodate the face to face mounting of the drivers.
This little box showed it's age and suffered a terrible death by foam dry rot, it was over 15 years old.  The details on the re-build are posted here.
112 Powered Sub
A massive powered subwoofer designed for incredible low frequency output usable to 24Hz.  Utilizes a 12″ long excursion woofer and a 200WRMS power amplifier.  Amplifier module has an adjustable gain, phase and crossover point.  The front loaded cabinet is finished in textured gloss black and covered with a black fabric grille.  The top is protected by a Plexiglass cover to allow use as an end table.
This sub was updated and tested recently, details posted here
Specifications:
Frequency Response: 22Hz to 322Hz +1dB, -3dB
Sensitivity: 89dB per watt at 1 meter, 110dB at 30Hz, 112dB at 80Hz maximum output
Load configuration: 10k ohm line level input with optional speaker level inputs
Power Handling: Internal 200WRMS into 4 ohm amplifier
Cabinet Dimensions: 18″W X 19″D X 30″T with grille in place